Hello All,
How you all doing? We are doing great! The garage is coming along great. The concrete is about done and we will be able to start on building the garage itself soon. Hubby got called to go out to Vegas for work...and wont be back until next Friday. So, it's just going to be me and the boys here for Mother's day. Oh well, I told Bryan not to have to much fun without me and that he owes me dinner out when he gets back..lol
Thanks for all the comments on my Mother's Day kit....hope you all are enjoying it. I'm working on finishing up a new one now. I will post it later tonight. I got an idea for a tutorial...and made the scrap to do it. So, in a since the tutorial inspired the Kit....lol How often does that happen?
Gotta go for now....getting the boys ready for bath and bedtime. Before I go here are some Lace Butterflies I made today. Hope you can find some use for them. I thought they came out cute.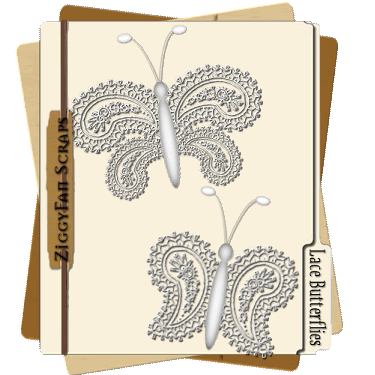 Click
Here
to download.....
-hugs, Ziggy