Hello All,
Happy June 1st! Hope you all are doing well. Is it just me...or did May fly by? Where did last month go...I know I have been busy, but it sure seemed to go by quick. Anyway, the garage has been put on hold for a bit. Money is a little tight right now. The concrete is all done and paid for, but the garage itself may not get done for a while. We thought we would work on some of the landscaping for now...and see about the garage in a few months. Will share some images with you soon. Just gotta get them uploaded.
Here is a little kit I have been working on for a while....I got it done...then added a few more things. Hope you enjoy it!
Kit includes:
5 - Papers
2 - Ribbons
1 - Photo frame
3 - Star frames
1 - String of beads
3 - Buttons
2 - Glitter Doodles
1 - Paper Star
1 - Stamp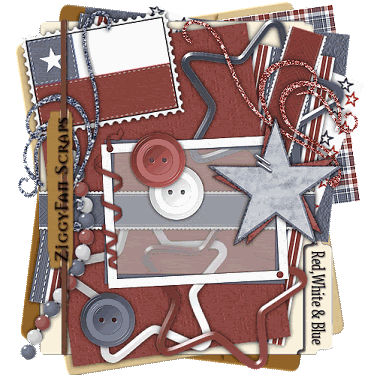 Click Here to download the Kit......
~~~~~~~~~~~~~~~~~~~~~~~~~~~~~
Add On includes:
2 - Bows
2 - Star Rosettes
1 - Flag Alpha ( all caps )



Click Here to download the Add On....
Enjoy....and have a good day.
-hugs, Ziggy